What is my memorable birthday experience and how did I celebrate it?
My memorable birthday experience is my 18th birthday simply because it was a time when I brought home my college friends to our house for a 4-day vacation and the plan was that there was no celebration that was going to happen. The surprise came when my mom decided to throw me a party since I had enough friends to do the 18 things and all. But that was not the really memorable part, the memorable part would be that in the history of debuts and what nots, I was not in sync with my motif which was green and I wore a brown pantsuit, and changed into a dark blue dress. LOL!
So Join the
Here's your invite!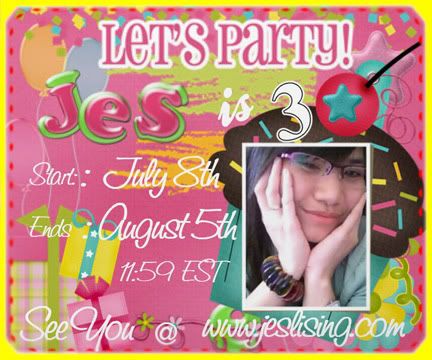 Prizes at stake are the following:
***FIRST PRIZE***
$80 CASH
***SECOND PRIZE***
$50 CASH
***THIRD PRIZE***
$30 CASH
***SPECIAL PRIZES***
-o-Top 3 Commentators -o-
$20 CASH PLUS ACCESSORIES from Pink Fortune (pictures to be posted soon)

$10 CASH PLUS www.oneproudmommy.info DOMAIN *only*
$10 CASH
Sponsors:
For more info and detail, click on the banner above or at my sidebar under Around the Web!