This is the first time, I ever spent my hard-earned blogging money into sponsoring a blog contest. When I heard of this blog contest the first time, I just knew I wanted to be a sponsor.
Without further ado, I present to you the contest that I think is worth joining in and worth sponsoring.
Thirty on 30 Blog Contest : The Changes in My Life Blog Contest
The Prizes:
"Changes in My Life" Blog-Writing Prizes
First Prize: $40.00

Paypal

cash

Second Prize: $25.00 Paypal cash
Third Prize: $15.00 Paypal cash

PLUS surprise special award/s
Favorite Sponsor Blog Post Blog Writing Prizes
3 Winners of $10.00 Paypal cash for BEST POST
First Comments Raffle Prizes
3 Winners of $10.00 Paypal cash
There are lots more prizes offered, actually, from prepaid load to gift certificates and even blog makeovers.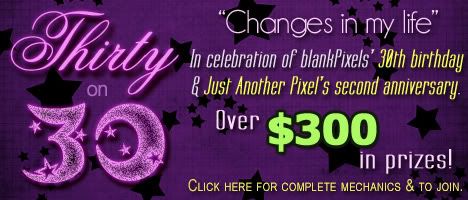 Primary Sponsors

● Everything Nice! ● News Break Online ● Fat Girl No More ● Written by Mys ●
● My Thoughts, My Heart, My Turf ● ZoWanderer ● Just the Tip of an IceBerg ●
● Just About Anything ● Blogger Manila ● Dress Up Your Blogs ● Pinay Mom ●
● Certified Foodies ● Pinay Online Money Maker ● Pinay Reviewer ●

Secondary Sponsors

● Georyl: Blogging with my Heart ● Pop Ups of My Mind ● Blog Tactic ● Grace in Creative Life ●

General Sponsors

● Make Money Online and Beyond ● One Proud Momma ● Lover Mushroom ● Plate and Me ● Paula's Home ● Make More Money Online ● The Miscellaneous Me ● Here, There and Everywhere ● Travels and Explorations ● Musings of Life ● Kharen's Corner ● It's Kha ● Noypistuff ● Jennyholic, Confession of an Addict ● Deej Speaks ● Techie Things ● Cups and Lowercase ● Live for Live ● Experience of a Super Mom ● Sharing my Thoughts ● Yashiro's Journal ● Table for Five ● Internet Cafe Blog ● blankPixels – The Geek Side ●
What are you waiting for? I am joining in all the fun and I am a sponsor, you should join too.
Click on the banner for the requirements.