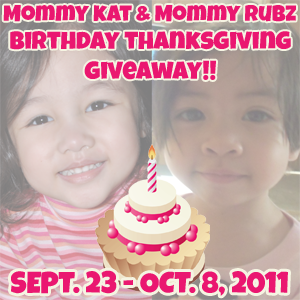 Dear Readers,
Christmas is coming soon and everyone needs the money. If you are a blogger, in need of more exposure, then I invite you to join an upcoming blog caravan that's been spearheaded by
Mommy Kat
and
Mommy Ruby
. For just $12, you will be able to become a sponsor in a blog caravan, and can ask those who will be joining to do 3 tasks. For contest hunters, this is an opportunity to win big prizes so watch out for it.
For bloggers, this is a great way to gain more visitors, encourage others to participate in your contest, participate in your blog and of course to gather more followers. Seriously, you have nothing to lose and everything to gain. If you feel like becoming one of the many sponsors, feel free to fill up the
Sign-Up Sheet
and Become a Sponsor!
The contest is slated to run on Sept. 23 to Oct. 8. Hurry! Act now! To join in all the fun!