School is Fun Movies
A variety of movies with school settings that I enjoyed, cried, laughed and just had fun watching. Be a coucher and tell me your pick
Dear Reader,
Well, I think I'll keep this short for a change, nah, Impossible!
School is fun made me go on memory lane since my short-term memory is coming up empty or rather falling on High School Musical and that doesn't hit the spot for me. My picks are not that old. I could give you a list.
High School movies are much more fun because of all the angst and teenage drama and seemingly complicated love things.
My favorite movies in reverse order:
Cruel Intentions - an old movie, then remade by actors I really like. Reese Witherspoon, Ryan Philippe, and Sarah Michelle Gellar. They are in highschool and the movie is actually like Gossip Girl , manipulations, controlling, competition and more.
Another Cinderella Story - a movie where I found Selena Gomez, fun and attractive. It's a sequel to my 2nd top pick. I just love the rags to riches theme or in this case, the one with talent wins.
A Cinderella Story - I love this movie not because of Hilary Duff, but because of Chad Michael Murray, (Lucas Scott of One Tree Hill, also starred in House of Wax). He's just yummy as the quarterback who writes poetry and wants to go to Princeton.
My top pick is Drive Me Crazy(1999). The movie stars Melissa Joan Hart (Sabrina the Teenage Witch) and Adrian Grenier (Entourage)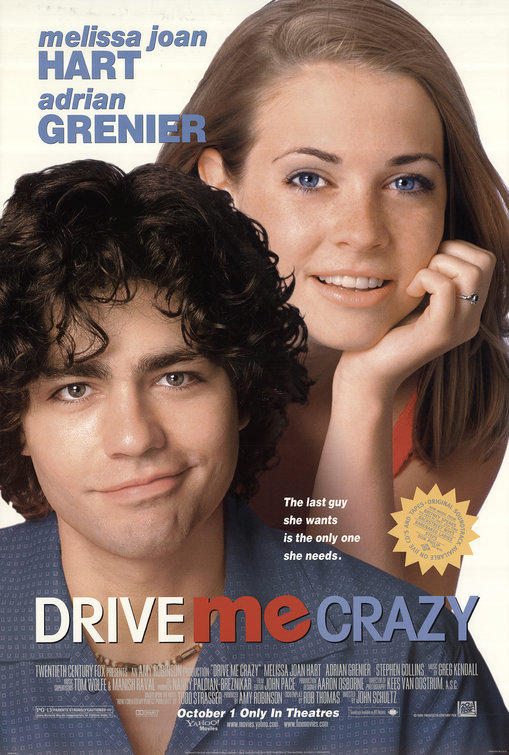 Nicole Maris is a popular high school preppy senior in Utah who gets her life turned upside down when her perfect date, Brad, falls for a cute cheerleader from another school a month before the school's centennial senior prom.Devastated, she rushes off to her yearbook and crosses off one after another possible prospects for her date. Then her sights settle on Chase Hammond. She's his next-door neighbor, they were friends in a different lifetime. He's going out with Dulcie (Ali Larter) who decides that they're in a cooling off period. She cleans up his act (make him fashionable and become a part of the 'in crowd'). He teaches her about fighting for causes and others. They were pretending to like each other so that the ones they would make the ones they wanted jealous. In the end, they were meant to be for each other. One more thing, I love about the movie, is the soundtrack but not the Britney Spears song. I like Stranded by Plumb, and Keep on Loving You by The Donnas.
Other movies of note in School Genre: Honey (with Jessica Alba), 10 Things I hate about You (Heath Ledger), Step Up (1 and 2) and so much more. Wanna Find more movies? Learn something new? Click on the banner above. Sorry, had to remove the music, it was playing automatically.